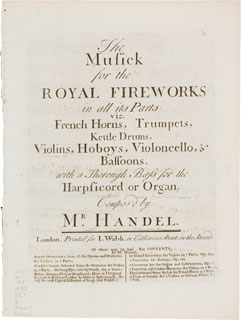 George Frideric Handel (1685–1759)
The Musick for the Royal Fireworks in all its parts
London: I. Walsh, ca. 1749–1759
Handel composed his Music for the Royal Fireworks in 1749 to celebrate the signing of the Treaty of Aix-la-Chapelle, which ended the War of Austrian Succession. The music was commissioned by King George II to accompany a display of fireworks and the firing of 101 cannons. Jonathan Tyers persuaded Handel to hold a rehearsal of the music at Vauxhall Gardens, for which he raised the admission price from one shilling to two shillings and sixpence. The rehearsal attracted an audience of 12,000, and traffic over London Bridge (the only bridge across the Thames) was blocked for three hours. The command performance before the King, held in Green Park, was less successful; halfway through the already disappointing display, the pavilion from which the fireworks were mounted caught fire and burned to the ground. 
The music consists of a grand overture and five shorter movements, which Handel originally intended to be played by a large wind ensemble including trumpets, kettledrums, horns, oboes, bassoons, and a serpent. He subsequently revised the orchestration to include strings. 
LENT BY THE IRVING S. GILMORE MUSIC LIBRARY, YALE UNIVERSITY 
Rare M1003 H135 F5 D