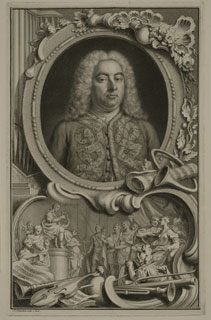 Jacobus Houbraken (1698–1780) after an unknown original; 
surround and scene after Hubert-François Gravelot (1699–1773)
Handel
ca. 1737
Engraving
Handel was portrayed more often than any other composer of the eighteenth century, but this portrait, by the Dutch engraver Jacobus Houbraken after a lost original, is the only one known to have had his approval. The print was included as a gift to the subscribers of the printed score of the oratorio Alexander's Feast, which Handel published in 1738. Roubiliac's statue of Handel at Vauxhall depicts the composer leaning on the score of this work. Responding to English taste, Handel had turned away from the Italian opera to oratorios, large-scale narrative works for orchestra and voices with little or no scenery, costumes, or action. Below the portrait is visualized a scene from the oratorio's text, which celebrates the power of music to transform human feelings. 
LENT BY THE IRVING S. GILMORE MUSIC LIBRARY, YALE UNIVERSITY 
Portrait File Box 16