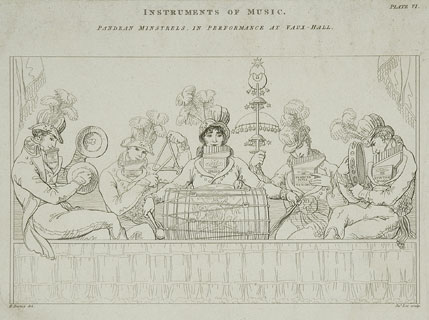 John Lee (active 1794–1798) after Edward Francis Burney (1760–1848)
Instruments of Music, Pandean Minstrels in Performance at Vauxhall
1806
Engraving
Little is known about the Pandean Minstrels, one of the popular musical entertainments that appear to have enjoyed some success at Vauxhall in the first decade of the nineteenth century. On the basis of sheet music published in 1809 and 1810, featuring favorite pandean music as performed by the Pandean Minstrels, they were primarily a dance band, playing marches, quick steps, minuets, waltzes, and airs. The pandean pipes, or panpipes, gave the group their name. Each performer appears to have played simultaneously the pipes and a percussion instrument, giving the band something of the appearance of a novelty act. The panpipes, however, also had pastoral and classical associations that would have been entirely in keeping with Vauxhall's overall program, as would the instrument similar to a Roman sistra played by the second figure from the right.
YALE CENTER FOR BRITISH ART, PAUL MELLON COLLECTION
B1977.14.18722