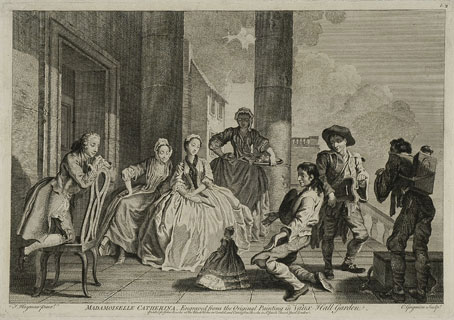 Charles Grignion (1717–1810) after Francis Hayman (1708–1776) 
Madamoiselle Catherina
after 1743
Engraving 
In the early 1740s Jonathan Tyers commissioned over fifty paintings from contemporary British artists to decorate the supperboxes at Vauxhall. The idea apparently originated with William Hogarth, who may also have designed some of the paintings. In return for services rendered, Tyers awarded Hogarth a "golden ticket" granting him free entry to the gardens for life. The Vauxhall paintings would constitute one of the first displays of contemporary British art that was readily accessible to the public. 
The majority of the paintings were made by the studio of Francis Hayman and depicted rustic amusements and children's games, such as Blind Man's Bluff and Leap Frog. Several had musical themes: this one takes as its subject the performance, before an elegant gentleman and lady, of a clockwork puppet, Madamoiselle Catharina. The puppet is being operated by three Savoyards, itinerant musicians, one of whom plays a hurdy-gurdy while another sings. 
YALE CENTER FOR BRITISH ART, PAUL MELLON COLLECTION 
B1977.14.18737