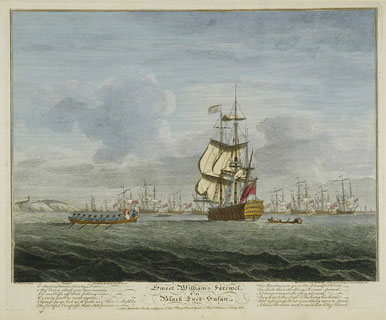 Pierre Foudrinier (active 1720–1760) after Peter Monamy (1681–1749)
Sweet William's Farewell to Black-Ey'd Susan
1743
Hand-colored engraving
The marine artist Peter Monamy made four supperbox paintings for Vauxhall, now known only through engravings. This picture takes its title from an extremely popular song with lyrics written by John Gay (who also wrote The Beggar's Opera). It was set to music by a number of different composers, including Richard Leveridge, who also wrote "Oh the Roast Beef of Old England," which William Hogarth would later use as the title for his painting of Calais Gate. 
The picture illustrates a popular subject, the departure of a sailor and his promise to remain faithful to his lover. The theme was repeated in other ballads sung in the gardens and would have had resonance for a significant proportion of visitors. 
YALE CENTER FOR BRITISH ART, PAUL MELLON COLLECTION 
B1995.13.141