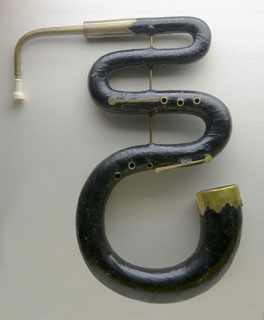 Serpent
D'Almaine & Co., 20 Soho Square, London
English, ca. 1812
Wood, covered in leather
The serpent is perhaps the most unusual and visually striking of all wind instruments. Its artfully coiled silhouette became an emblem of village bands and military wind ensembles, and the serpent was often used to provide a bass line for hymns and plainsong in churches in England and on the continent. The serpent has rarely found a place in the symphony orchestra, although composers such as Hector Berlioz and Felix Mendelssohn incorporated the serpent in orchestral and choral compositions because of its unique timbre. Played softly it resembles the bassoon, but at full volume its tone is penetrating enough to be heard across a parade ground. Not everyone admired this instrument, which is treacherous to play. The eighteenth-century composer and musicologist Charles Burney wrote: "The serpent is not only overblown and detestably out of tune, but exactly resembling in tone that of a great hungry Essex calf." Though made of wood, the serpent is played with a conical mouthpiece like brass instruments such as the trombone. This fine example has four keys and six holes covered by the fingers. 
LENT BY THE YALE UNIVERSITY COLLECTION OF MUSICAL INSTRUMENTS 
GIFT OF THE FRIENDS OF MUSIC AT YALE 
3658.1967