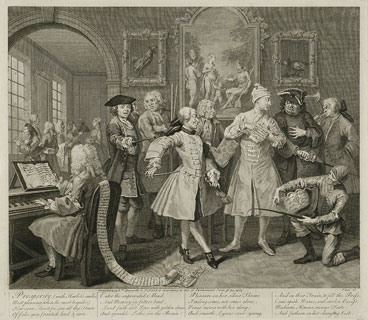 William Hogarth (1697–1764) 
A Rake's Progress II: The Levee
1735
Engraving
A Rake's Progress tracks the fortune of a merchant's son who squanders his inheritance and comes to a nasty end through the pursuit of luxury and social advancement. This plate shows the Rake, having just come into his fortune, adopting aristocratic habits. He is surrounded by hangers-on, including a fencing master, dance master, jockey, landscape gardener, and harpsichordist. The score on the music stand is a fictional opera, "The Rape of the Sabines," in which the "ravishers" are played by well-known castrati and the "virgins" by scandal-laden sopranos. The scroll tumbling over the back of the harpsichordist's chair lists gifts given to the visiting castrato Farinelli, echoing the theme of the opera-house signboard in Masquerades and Operas. The print on the floor at the end of the scroll depicts Farinelli seated on a pedestal receiving the hearts of wealthy women, one of whom calls out "One God One Farinelli" — a direct quotation from an actual incident, and an example of the adoration Farinelli inspired in his audiences. The Italian opera is thus given a central role in the Rake's downfall, standing for all that is decadent. 
YALE CENTER FOR BRITISH ART, PAUL MELLON COLLECTION 
B1981.25.1412