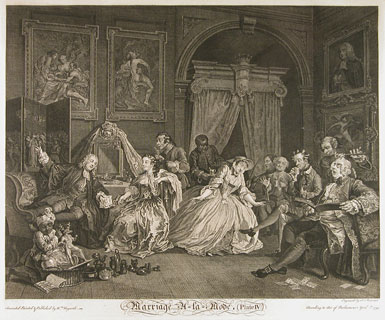 William Hogarth (1697–1764) 
Marriage a la Mode IV
1745
Engraving
Marriage a la Mode, like A Rake's Progress, is a satire on aristocratic tastes and a critique of those who seek to rise above their station. Here the Countess of Squanderfield, originally a merchant's daughter, pursues the high life in a similar manner to the Rake. The crowd at her morning levee includes a singer, identified as a castrato, whose abundance of jewelry adds to the vulgarity of the scene. Hogarth thus once again identifies a star of the Italian opera with opulence and decadence. 
LENT BY THE LEWIS WALPOLE LIBRARY 
+745.4.1.4.3