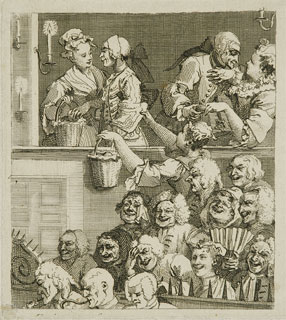 William Hogarth (1697–1764) 
The Laughing Audience
1733
Engraving
This is a subscription ticket, given as a receipt to subscribers who paid in advance for prints that were planned or in production, in this case A Rake's Progress and Southwark Fair. Here Hogarth returns to a familiar theme and setting, the contrast between orders of society in the context of a theatrical performance. While the orchestra plays in the pit and the lower orders appear weak with laughter, the gentlemen in the gallery are more interested in flirting with serving girls than in what is happening onstage. Subscribers who received The Laughing Audience had to wait two years for delivery of their prints, as Hogarth delayed their publication until Parliament had passed the Copyright Act protecting his (and other engravers') work from piracy. 
YALE CENTER FOR BRITISH ART, PAUL MELLON COLLECTION 
B1981.25.1455