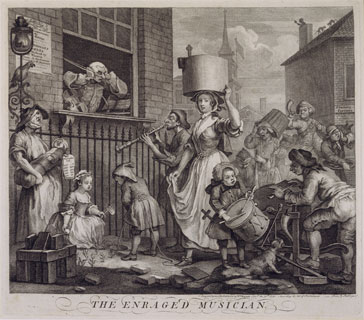 William Hogarth (1697–1764) 
The Enraged Musician
1741
Engraving, second state
The musician whose practice is interrupted by the noise of the street has received a number of different identifications, including Pietro Castrucci, a violinist who was brought from Italy by Lord Burlington (whose patronage of foreign musicians is satirized in Masquerades and Operas), and Giacobbe Cervetto, whose portrait appears in the next bay. The musician is generally agreed to be a foreigner, whose refined preoccupation with his music is contrasted both with the native Beggar's Opera, a poster for which appears on the wall next to his window, and the cacophony of the street, including a knife grinder, a sow gelder, and an itinerant oboist. Further contrasts are set up by the figure of the milkmaid crying her wares, on the one hand with the musician, and on the other with those who surround her, particularly the ballad seller standing at the left. The ballad she sells, "The Ladies Fall," is a cautionary tale about a girl who gives herself away before marriage and has a child out of wedlock. 
TRANSFER FROM THE YALE SCHOOL OF MUSIC 
B1998.12