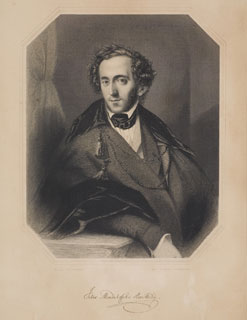 Albert Henry Payne (1812–1902) and W.C. Wrankmore (active 1840s) after Theodor Hildebrandt (1804–1874)
Felix Mendelssohn-Bartholdy
date unknown
Lithograph
Felix Mendelssohn, born in Leipzig in 1809, was a child prodigy whose youthful compositions for piano, strings, and full orchestra (including the incidental music to A Midsummer Night's Dream of 1826) won him wide renown. His music was especially popular in England, and he became a favorite composer of Queen Victoria and Prince Albert, for whom he performed when in England in 1847. Born into a prosperous and intellectually gifted Jewish family, Mendelssohn never cultivated the raffish or Bohemian identity of Romantic musicians and poets like Hector Berlioz or Lord Byron, and was far more comfortable with polite society, preferring a life of middle-class respectability. The family converted to Protestantism and added the name "Bartholdy" to signify this.
Mendelssohn's music was less formally radical than that of his contemporaries Berlioz and Wagner, and he excelled at creating small-scale works for piano such as the Lieder ohne Worte (Songs without Words), an example of which can be heard at the listening station in this room. However, in works such as the Scottish Symphony (No. 3, 1842), the Italian Symphony (No. 4, first performed in London in 1833 but published posthumously in 1851), and above all the Hebrides overture (which can also be heard at the listening station), he found a musical idiom perfectly adapted to the Romantic sense of place, evoking landscapes through evocative, poignant, and often dramatic writing for orchestra.
This portrait after Theodor Hildebrandt captures something of the modest and genial character of the composer, attired in the manner of a prosperous bourgeois, but with a tousled coiffure that perhaps hints at his artistic vocation. Mendelssohn first met Hildebrandt in Rome in 1830, where the two went on sketching expeditions with other German artists, but this portrait was probably made somewhat later. He retained a youthful appearance at the time of his early death, aged 38, in 1847.
LENT BY THE IRVING S. GILMORE MUSIC LIBRARY, YALE UNIVERSITY
Portrait file, Box 11