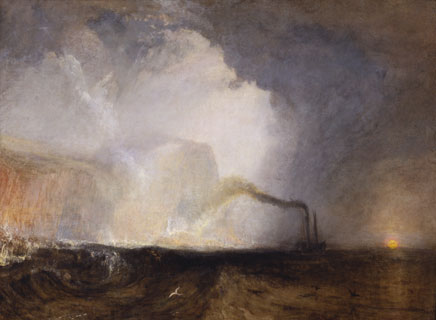 J.M.W. Turner (1775–1851) 
Staffa — Fingal's Cave
1831–32
Oil on canvas
When this painting appeared in the Royal Academy exhibition of 1832, Turner quoted lines from Sir Walter Scott's Lord of the Isles in the catalogue: 
Nor of a theme less solemn tells
The mighty surge that ebbs and swells
And still, between each awful pause,
From the high vault an answer draws. 
Turner's painting acts both as a meditation on Scott's words and as a response to his own recollections of his visit to Staffa in 1831. The artist had endured a very rough crossing in the steamer The Maid of Morven, and had scrambled inside the cave across the wet rocks to gain the best views. Turner's intensive observation of the geology of the cave may seem lost in this atmospheric painting, but closer inspection reveals just how carefully he has depicted the basalt columns of the cliffs, which can clearly be seen through the mist. 
Rather than a topographical record, or a personal reminiscence, however, this painting is conceived in grand — perhaps symphonic — terms. It suggests not a single moment, but a balance of competing forces, forming a compendium of sublime weather conditions: there are light clouds and dark; heaving waves to the left, calm waters to the right; and even a sun that appears to be both high in the sky and setting in the distance. Such is the force of the great vortex holding together Turner's composition, however, that such apparent contradictions in no way distract from the power of the image. 
The tugboat, reminiscent of The Maid of Morven on which Turner sailed to Staffa, is a profound, ambivalent, unsettling presence in the image. It might represent the claims of modern culture to have overcome the challenges of the seas; but the sinister black shape, belching filthy smoke, with a tiny red dot of fire visible even from this distance, seems to suggest a less benign presence — a modernity that threatens the God-given nature lauded in Scott's poem. The vast clouds rising above the boat, however, remind us that nature's power is ultimately greater than man's, a fatalistic conclusion that identifies Turner as an archetypal Romantic. 
YALE CENTER FOR BRITISH ART, PAUL MELLON COLLECTION 
B1978.43.14